BPD Community is committed to working to build a strong supportive community, using our shared interest and understanding about BPD, our diverse needs and our lived experiences.
We look forward to seeing you at one of the events.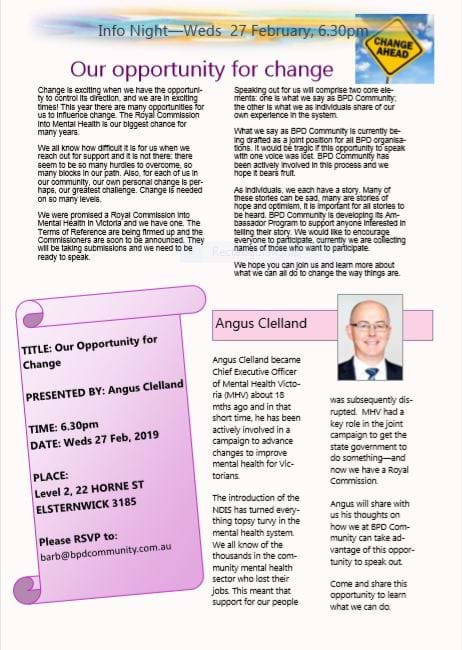 Information nights are held every 3 months we hold an Information Night on a topic of interest to our community. These are opportunities for us to meet and catch up with each other as well as to learn the latest news. They are free and open to all.
Contact: bpdcommunityvic@gmail.com to rsvp or for further information.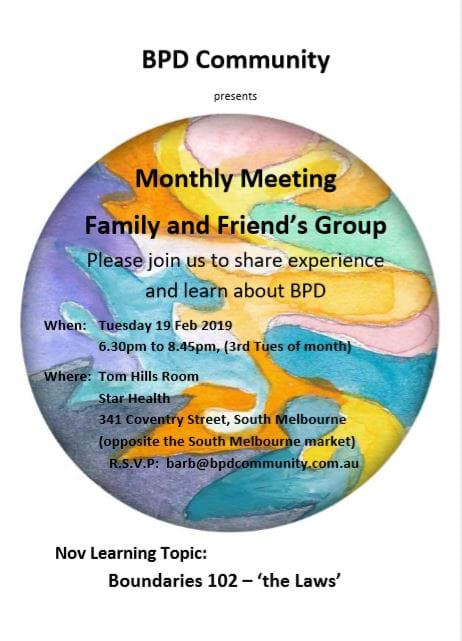 Family & Friend's Group: at 6.30pm every third Tuesday of the month we hold a Family & Friend's Group at Star Health opposite the South Melbourne market. The peer lead group has a focus on both mutual support and psychoeducation to learn more about the disorder as well as the techniques that are helpful in building relationships. Whether you are a parent, spouse, sibling, child or friend of a person with BPD, you are welcome. A formal diagnosis of BPD for your loved one is not a requirement; you are welcome if you think it is a possibility. It is free and open to all carers.
Contact: barb@bpdcommunity.com.au to rsvp or for further information.
The Ambassador Club is an initiative to support those with lived experience and the families to speak up and speak out. A multi pronged program to develop the sense of community that mutual support brings, the club will be trained in areas such as: BPD, the big picture; how to tell your own story to help change he world; how to speak in public. Those who wish to submit to the forthcoming Royal Commission into Mental Health here in Victoria are welcome to apply for the Club.
Contact: barb@bpdcommunity.com.au to add your name to the list of applicants.