BPD Community is a young organisation with enthusiasm and energy, keen to get on with making a difference. The focus from the start has been to do what it could to achieve it's mission to replace stigma and discrimination and create a community to support recovery. Concurrently, it has worked hard to ensure that the work is both transparent and reflects good governance. The Annual Reports below are a reflection of the stages of development in the organisation.
Annual Report 2016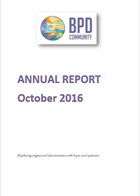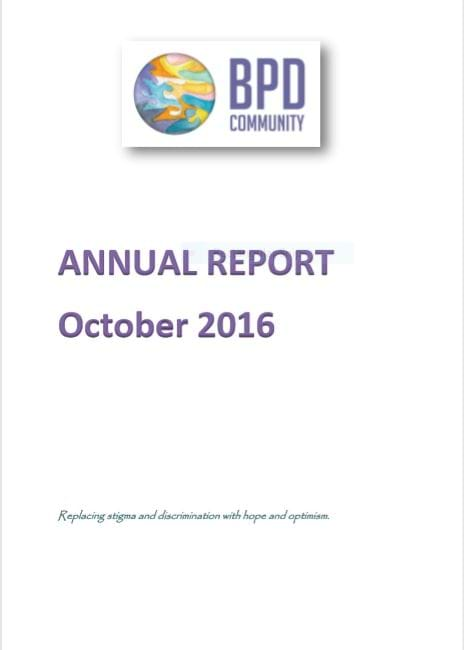 "In our short life, we have achieved much and this is made possible by our motivation to bring about change and the support that exists in the wider BPD community for what we do. As a Board we are constantly guided by our mission to replace stigma and discrimination with hope and optimism.
Our organisation BPD Community Victoria Ltd, has had a solid Board of Directors who both provide governance and who are also hands on in the organisation of our activities. It is a challenging role to be both Director and volunteer and the enthusiasm and commitment of the Board is commendable.
In the challenge of starting up from nothing, it can seem sometimes as if both everything is happening at once and also that it is all moving so slowly. When we look back and see how far we have come, we know we have achieved much; when we look ahead into what needs to be done, we can see so much that we could be doing."
annual report 2017
"Have you ever wanted to change the world if only you had a magic wand? BPD Community has no magic wand, but there is a talented bunch of people giving their time and efforts to create change. This is our opportunity to thank all of you who have given, no matter how small, because it does all add up. In creating our BPD Community, we are making the world a better place.
It has been two and a half years now since we began our work. From nothing we have created a solid organisation that is actively making people's lives better. While we can congratulate ourselves on that, we are constantly reminded of just how great the need is. Every time we welcome a new member to the community we are reminded of the sense of urgency we feel. There is so much unnecessary pain and hurt.
We develop our programs and work towards creating an organisation that is sustainable in every way. This challenge is one we embrace with enthusiasm. We have a clear vision to create a world where those affected by Borderline Personality Disorder can live lives of hope and optimism knowing that full recovery is a realistic, accessible goal. And all our work is to make that vision a reality."
Annual report 2018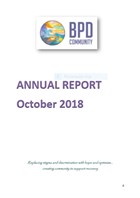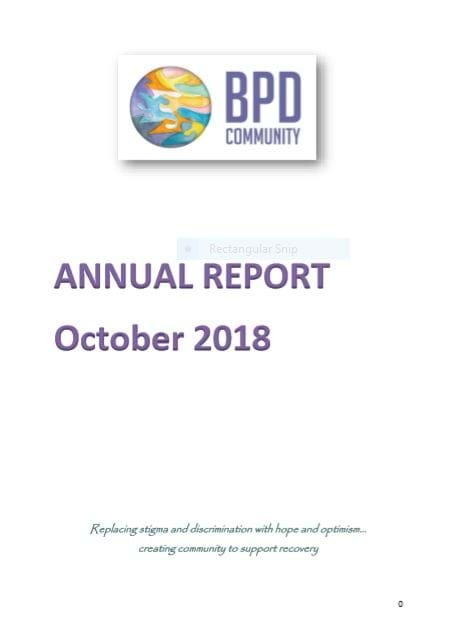 "It seems like no time at all since BPD Community began its work. This year of 2017-2018 saw the consolidation of our previous efforts and the building of our organisation as a sound agent for change: the work of previous years is paying off with strong foundations on which to develop.
Still relying on volunteers and pro bono support to help us with our objectives, we work towards achieving funding to help us fill the gaps in the system. The statistics are shocking, the stories we hear of discrimination are shocking. We are keen to become involved in making an active difference in the lives of those with lived experience and their families.
When we find the wherewithal to build our capacity and develop our programs, we will be better able to support recovery in the lives of the individuals who are members of our community. We look forward to this time. "