Financial Reports
BPD Community aims to be an open and transparent organisation, our core value of collaboration requires this honesty. The financial reports below are indicative of a start up organisation building capacity to grow and fulfill its mission to replace stigma and discrimination hope and optimism and create a community to support recovery.
These reports highlight the importance of our pro bono and volunteer supporters. To them we are ever grateful. To our financial supporters we are also grateful and appreciative of their belief in us and our work.
---
2017 - 2018 General Purpose Financial Statement
The preparation of a General Purpose Financial Statement is an indication of the ability of the organisation to be accountable for its income and assets.
A primary difference between the GPFS and the Financial Statement below is the accounting of pro bono support for our organisation. This GPFS meets accounting standards and provides a sound and accurate overview of our financial situation.
2017- 2018 Financial Report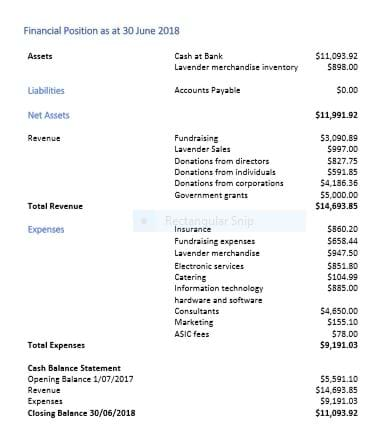 Summary
BPD Community Victoria Ltd has enjoyed stable financial performance over the past twelve months. We are more than able to cover all expected financial commitments over the next twelve months, even without additional revenue in that period.
The organisation depends on volunteers to maintain day-to-day operations and governance. Although, financial revenue and consequently, expenditure, is limited, through prudent financial decision-making, the organisation remains in a strong position to continue to meet ongoing necessary expenditure.
2016 - 2017 Financial Report
2015 - 2016 Financial Report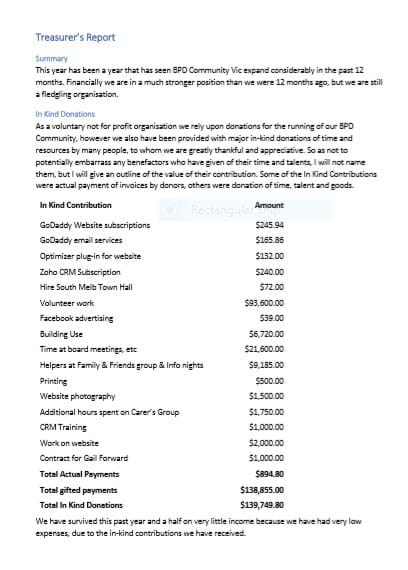 Summary
It was eighteen months ago we became a fully established as a legal company. This report covers the full 18 month period from April 2015 to September 2016.
As a voluntary not for profit organisation we rely upon donations for the running of our BPD Community, however we also have been provided with major in-kind donations of time and resources by many people, to whom we are greatly thankful and appreciative. So as not to potentially embarrass any benefactors who have given of their time and talents, I will not name them, but I will give an outline of the value of their contribution.